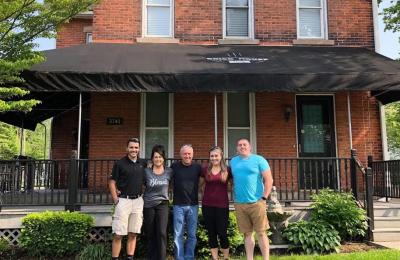 Contributed Photo (By Jim and Jackie Cross)
Pictured in front of Brick House Coffee is the family who keeps it all running: Michael (Jim and Jackie's son), Jackie, Jim, their daughter Nicole, and their son-in-law Tony.
Brick House Coffee at 3741 W. 26th St. has been a fixture in Millcreek for the better part of the past 20 years, but the house itself has been there much, much longer than that. Likely built around the Civil War, this home looked over acres of farmland when Millcreek was not much more than a rural, wild, sparsely populated hamlet. New business owners Jim and Jackie Cross have brought the Brick House back from its abrupt closure in 2017, and are proud to return this coffee oasis to West Millcreek and give the old, brick house a purpose once again.
Jim Cross never had a strong desire to own a business; working in his family's fourth-generation business, the James H Cross Company (specializing in industrial cutting tools), it was not something at the forefront of his mind. He often noticed Brick House on his way to work, but didn't really think beyond that. That was until he noticed it suddenly closed, then becoming overgrown, and that concern (in combination with the timing of Jim's retirement) sparked a phone call to the owner. In March of 2019, Jim put a proposal together, and by June they were the proud new business owners of Brick House Coffee. "The way I see it, there's a huge gap from Asbury to Pittsburgh Avenue and Brick House already had a good following. We didn't know much about coffee except that we like it, so we did a lot of learning. The customers are thrilled that we're back, though we've definitely made some changes. We really tried to make it Jim and Jackie's Brick House."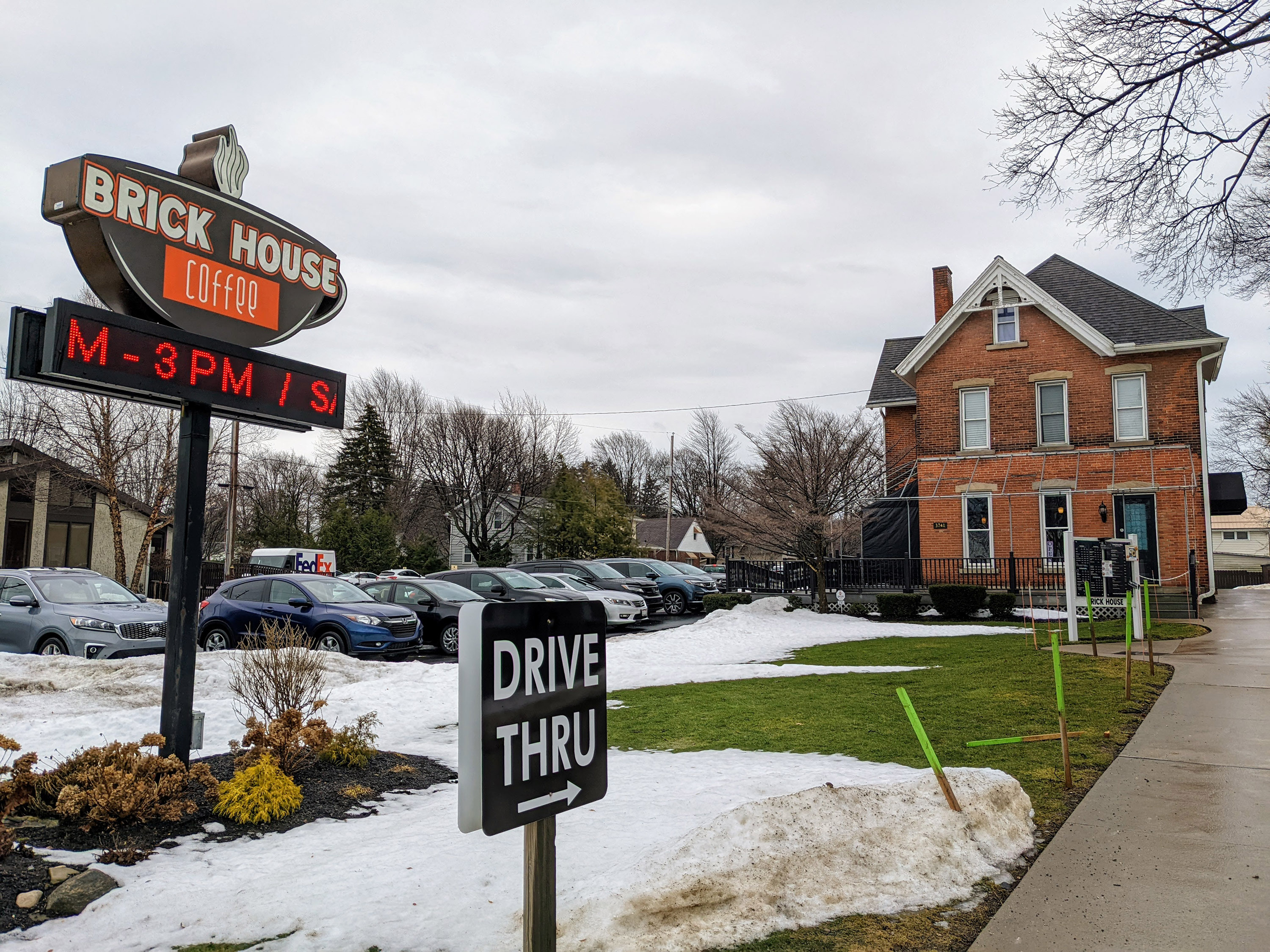 Brick House Coffee at 3741 W 26th St offers drive-thru and in-person service Monday through Friday from 7-3, Saturdays and Sundays from 7-2. Photo by Erin Phillips
Among those changes, the most dramatic are the hours, the menu, and scope of the business. The previous owner had a liquor license and was open until midnight, operating both as a cafe and bar, but that was not what the Crosses were looking to take on. They chose to serve only breakfast and lunch, and have really streamlined the menu and the schedule. "We didn't have an espresso machine, so we knew that was an expense. We said, if we're going to be good, we're going to be really good, so we invested in an Italian Simonelli Espresso machine. We're having fun with the different challenges. And we're very busy."
The Crosses took over the business in June of 2019, and, as we all know, by March of 2020 — just 8 months later — everything shut down. Luckily, due to the layout of the home, they were able to reopen the drive-thru by May. Jim admits, "That drive-thru is absolutely what saved us." They were able to eventually fully reopen in June of 2020 and business has been bustling ever since.
The Crosses have completed a number of projects to get Brick House back up and running, while making sure it looks and functions the way they prefer. They painted and refreshed the entire interior, including the tables and seating. They did a ton of landscaping; outdoor projects being what Jim particularly enjoys.
As we tour the 150+ year old building, Jim points out the different functional sections of the upstairs and basement, including storage and kitchen equipment, but my eye is drawn to the wide plank original hardwood floors spanning the second floor, the millwork around the doors and windows, the decorative banister, the stone foundation, the original doors, and hardware, including pocket doors, multiple fireplaces, etc. There is no denying this Brick House was once a home with a rich history.
Tax records state that the home at 3741 W. 26th St. was built in 1880; however, according to census records as well as noting some of the style elements of the home (like the stone foundation and rough-hewn beams in the basement), I believe the home is more Civil War era, likely built in the 1860s. The home is known as "The Carter House." John High Carter was born in England in 1821 and came to Erie in 1837 with his older sister, Henrietta when he was 16 years old. In 1848, he married Anna Heidelbach and settled into this area of Millcreek and started farming. According to Carter's obituary: "He was a self-made man in the highest sense of the term, came to this country a poor boy and through his own efforts, became one of the most prosperous farmers in this county." This description leaves out the fact that his wife came from prominent early settlers of this area, who likely provided the land for the Carter family to farm. John Carter died in 1900, Anna remained in the home until her death in 1910.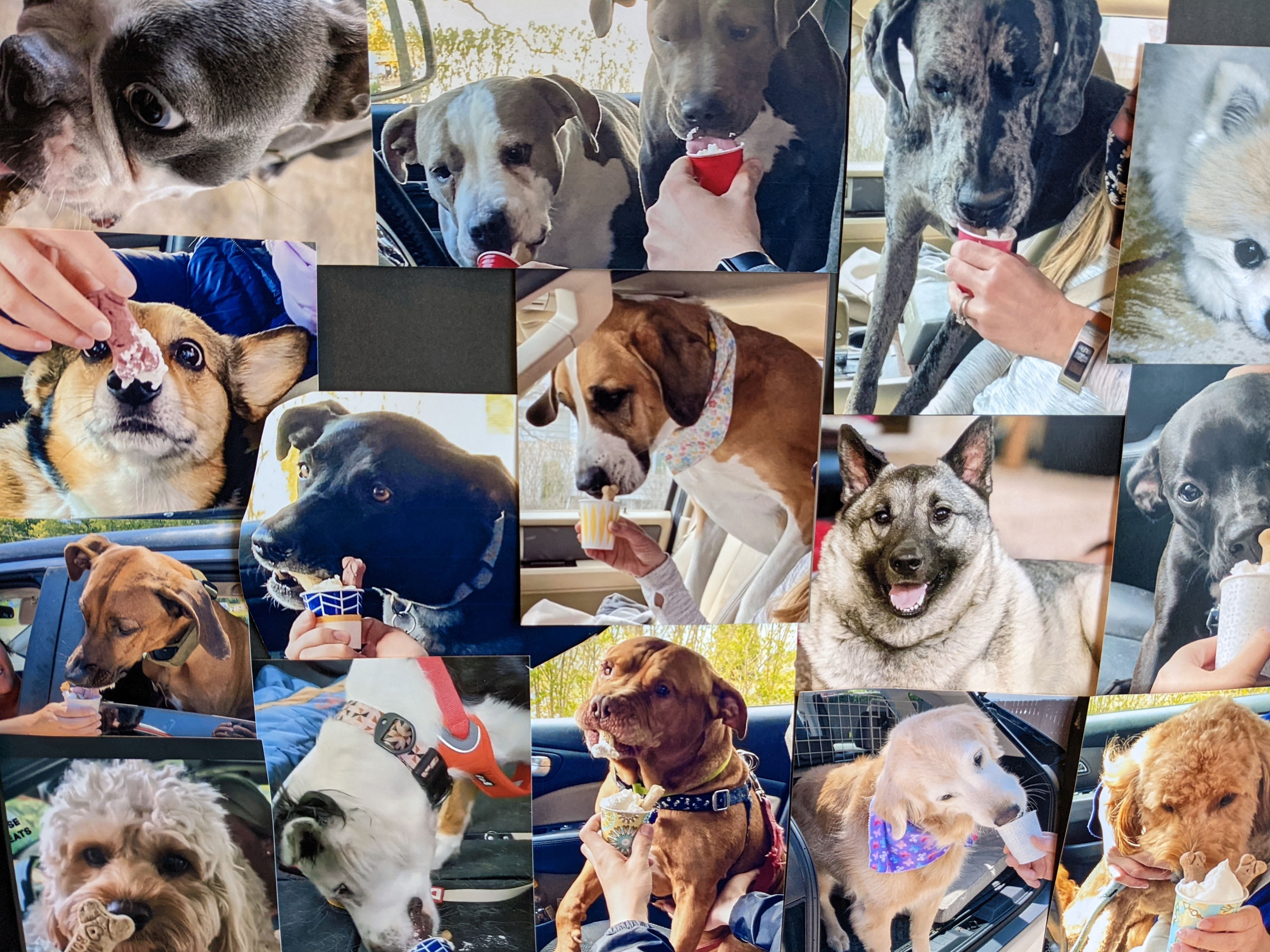 A passionate animal lover, owner Jackie Cross loves snapping a picture of the canine customers of Brick House enjoying their pup cups. 20% of proceeds from mug sales goes to local animal rescue group, Because You Care. Photo by Erin Phillips
In 1913, the home was sold to R.S. McCreary, whose family owned multiple tracts of land in West Millcreek and Fairview for generations. Ralph was a dairyman and local tax collector in Millcreek, eventually getting into politics, serving in the PA House of Representatives. He owned the home for about seven years before it was purchased by Charles Foht and his wife, Rhea Sturgeon Foht. Rhea's family goes back to the very establishment of Fairview, and two of her great grandfathers were integral to the incorporation of the town: Jeremiah Sturgeon and Rev. Johnston Eaton. If you look at an 1855 resident map of the town of Fairview, it is dominated by the names Sturgeon and Eaton. The Jeremiah Sturgeon house built in the 1830s still stands and currently serves as the headquarters for the Fairview Historical Society. Rev. Johnston Eaton was the first minister to come to Fairview, before there was much there at all, and gave his first sermon in a crude cabin at the mouth of Walnut Creek on the lakeshore. He went on to establish the first church west of the City of Erie in 1810 and aided in the establishment of the Westminster Presbyterian church that today stands just down the block from the Brick House. Rhea was intimately involved with the church for most of her life. It is fitting that the Foht family ended up settling here, as there are deep family connections to this area of Erie.
Both Charles and Rhea's parents owned grocery stores on West Eighth Street and this is likely how they came to meet each other. Charles continued on with the grocery business, and by the time they moved to the Carter House, he was a wholesale candy salesman. Later in life, upon his retirement, he became the treasurer for the Millcreek School Board and also drove a school bus for the district. The couple never had any children and Rhea lived in the home until her death in 1977, at 91 years old. It was shortly after that when the home at 3741 W. 26th St. turned into a business. Operating as a cigar store for a while, it was the Weeks family who eventually, in the early 2000s, turned the home into a coffee shop, which was purchased by Tony Campanella in 2009. And it is now Jim and Jackie Cross who are carrying on that project. Jim comments: "From a Millcreek standpoint, I'm sure a lot of people appreciate what we're doing here."
It is not just the human patrons of Brick House that appreciate what the Crosses are doing, but the canine patrons agree: the Brick House has the best pup cups around. Jackie is a passionate animal lover and enjoys passing out cups of whipped cream topped with dog bones to anyone coming through the drive-thru or relaxing on the patio with a canine companion. She has partnered with the local animal rescue organization Because You Care to offer pet-inspired products (mugs, decorative plates, and specialty coffee) from which the business donates 20 percent of the proceeds to help the homeless animals in our community. Jackie comments: "This was not only to give back to our community but to get these types of loving and caring shelters the extra help and or items they deserve and to help our furry friends in need. The individuals that do this work are amazing and have huge hearts! We are so happy to be able to give back some of what we are so fortunate to have."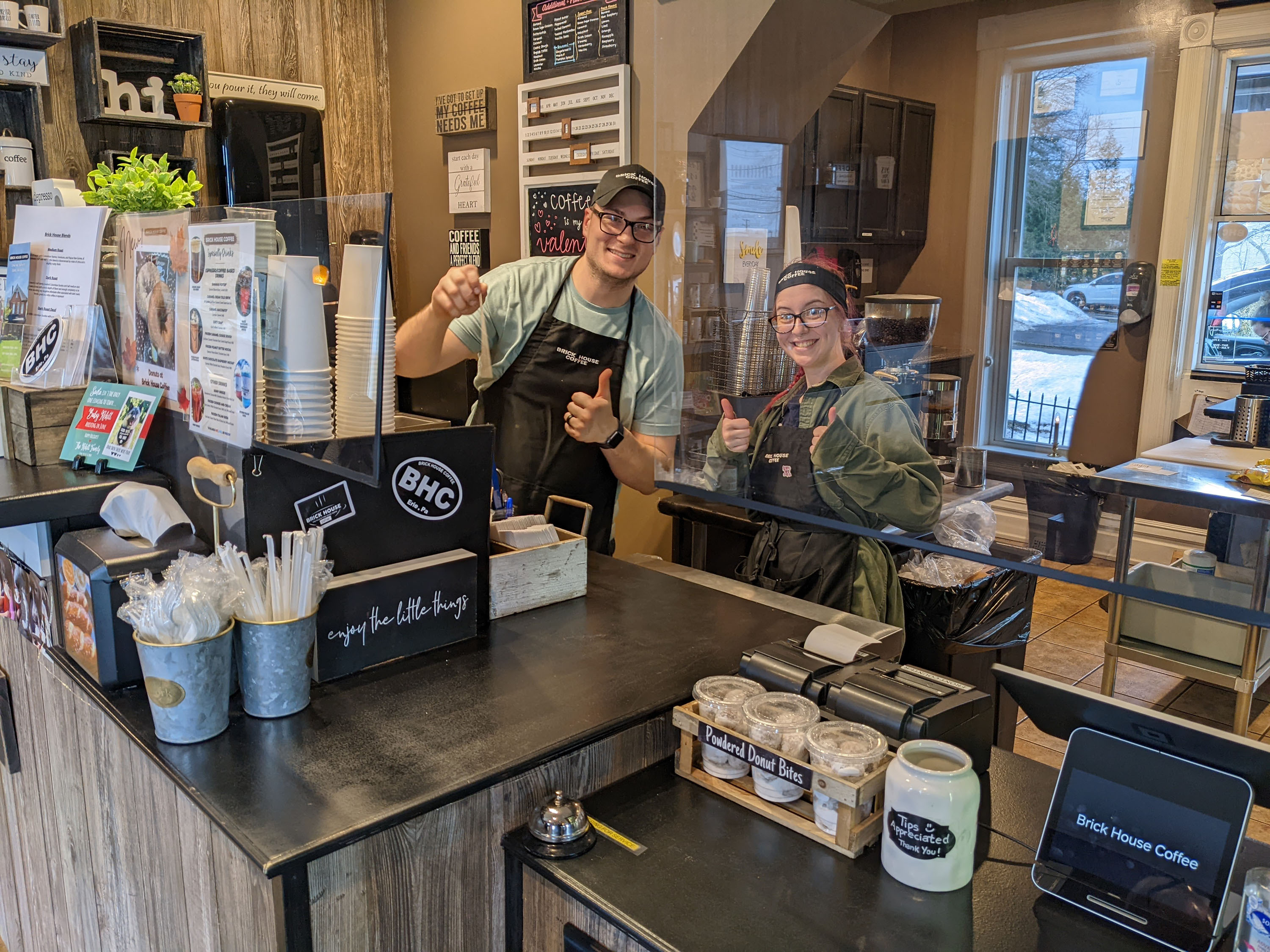 Employees John Dutton and Emma Williamson greet customers with a smile while they craft original coffee creations at Brick House Coffee. Photo by Erin Phillips
The menu offers plenty of breakfast items, including bagels provided by Jon Edwards' New York Bagel and Deli, fresh-made Belgian waffles, and croissant sandwiches for lunch. They bake a variety of fresh cookies in-house each day and offer other baked goods provided by Tiffany from Tasty Bakes. All of their coffee beans are provided by Millcreek Coffee Company, as the couple makes every effort to support local whenever they can. Not only do they offer the standard coffee and espresso drinks, they also offer decadent and flavorful original coffee creations like "Bananas Foster" and "Frozen Caramel Cookie Dough." They also offer frozen Italian Sodas, berry smoothies, and seasonal drinks. There is something for everyone at Brick House, whether you come for the coffee, the pup cups or just to ogle the amazing historic architecture. The Brick House is not one to pass up.
Erin Phillips runs the Instagram @olderieonfoot, an in-depth look at local architecture "by foot, stroller, papoose, bike, and occasionally minivan."