Pennsylvania's rich and centuries-old agricultural scene provides the perfect farm-to-table recipe. Plus, it's a win-win for all involved! You get to enjoy a delicious meal crafted from the freshest of fresh ingredients, all while supporting a local restaurant. Check out these 46 unique spots for a cornucopia of tasty meals featuring the best local ingredients found anywhere!
1. Millworks
Harrisburg
From grass-fed beef to free-range pork and chicken to locally sourced produce and cheese, the menu at Millworks is brimming with flavor. It's not just the food that's local in this bohemian setting. Millworks features its house-brewed craft beer on tap. Sample the featured sips of the season at their rooftop Biergarten!
Bonus: The Millworks also houses art studios and an art gallery featuring the works of sculptors, painters, and other local artisans – the perfect spot to feed your soul!
2. Zack's Restaurant
New Bethlehem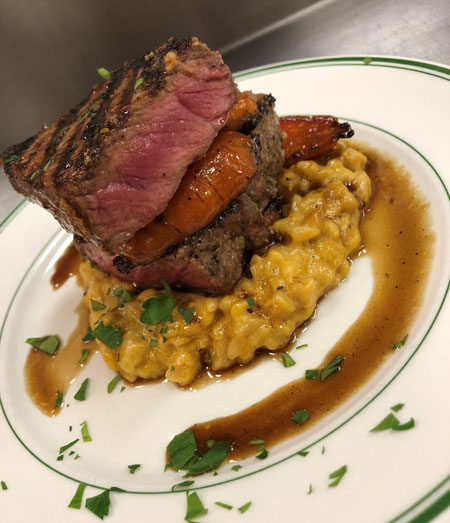 Each week, Chef Zack Blose fills the menu of Zack's Restaurant with local, fresh, and delicious fare. Zack is super picky about his ingredients so you won't find anything frozen, out of a bag, microwaved, or packed full of preservatives here, with most meats and produce sourced locally as well as the wine and bread they serve.
Bonus: Zack's is the only place in town to get locally roasted coffee and homemade farm fresh ice cream.
3. Founding Farmers
King of Prussia
From bread to burgers to booze and everything in between, the chefs at Founding Farmers KOP make everything from scratch, using the highest quality, farm-fresh ingredients and inspired by the country's rich culinary tradition. Their menus feature traditional American fare, including a classic burger made with all-natural beef ground daily, as well as several innovative creations.
Bonus: Their bartenders are also chefs with their ginger soda created from their own ginger syrup, carefully crafted from raw ginger!
4. Brickhouse Grill
Orwigsburg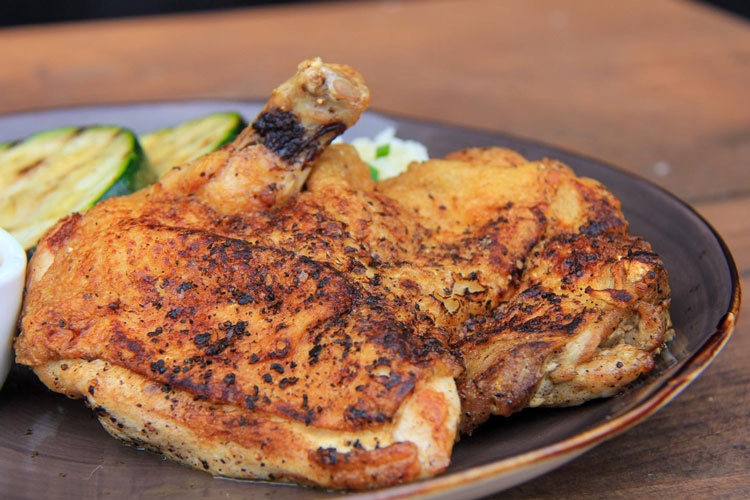 With veggies from its own garden and seasonal ingredients from local farms, the Brickhouse Grill prepares a variety of innovative, homemade dishes. Enjoy handmade pierogis, strawberry cream cheesecake, or one of their delicious "Handhelds" – cherrywood smoked, pork belly tacos anyone?!
Bonus: They craft a variety of highly creative libations, such as their "Pickledtini" made with Grey Goose vodka, house made pickle juice with fresh dill, black pepper, coriander, garlic, and mustard seeds, complete with a pickle garnish!
5. Greenhouse Enoteca
Allentown
A "seed to fork" and "restaurant with roots," The Greenhouse Enoteca features fresh, locally grown, meticulously crafted menu options designed to fuel both body and soul. Focusing on modern Italian cuisine, their meals are crafted from responsibly and locally raised meat products and produce, including many ingredients grown in their onsite greenhouse.
Bonus: Even their spirits, wine, beer, and cider are all locally sourced and handcrafted with the restaurant sporting its own urban winery, and bartenders absolutely obsessed with concocting delightfully creative infusions and freshly made mixers.
6. Revival Kitchen
Reedsville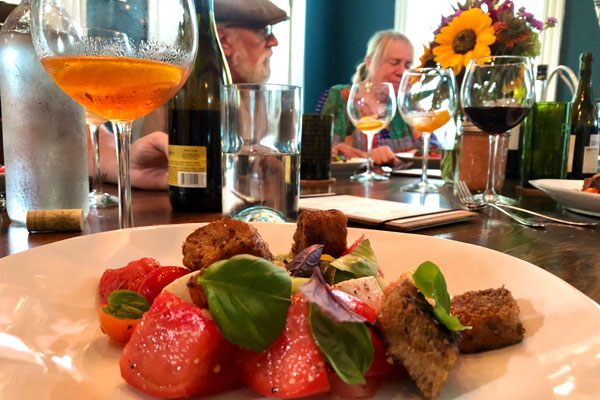 Mark your calendar for the second week in April when the Revival Kitchen will start accepting reservations for their spectacular, five course dining experience beginning in May. Chef Quintin Wicks and his team's thoughtfully created, prix fixe menu changes monthly and highlights what is best, brightest, and available locally.
Bonus: Their presentation is simply a feast for the eyes – works of art almost too beautiful to eat!
7. The Blind Pig Kitchen
Bloomsburg
Whether you're in the mood for an amazing five-course prix fixe dining experience or takeout, you're guaranteed a meal filled with deliciousness created from locally sourced, organic ingredients at The Blind Pig Kitchen. They are committed to using only food products grown and raised in the most environmentally conscious manner for their mouthwatering meals.
Bonus: Summer months feature an amazing, seven-course "On Farm Dining" experience for private parties of 4-8 people, so get ready to gather a group of your favorite foody friends once summer arrives!
8. Root
Lancaster
Tofu satay, vegetable curry, and bruschetta pizza are all on the menu at Root, Lancaster's all-vegan restaurant and bar. Yup! That's right – Root is a 100% vegan restaurant, featuring a menu chock full of your favorites and all created from seasonal, locally sourced produce. Check in often because along with customer favorites, they offer almost a dozen weekly specials – all prepared fresh daily.
Bonus: Buy one of their T-shirts. You'll not only look good but feel good knowing you're helping to rehabilitate the injured native birds and mammals living at the Raven Ridge Wildlife Center in Washington Boro.
9. Home 231
Harrisburg
Home 231 offers contemporary, home-style cuisine with a menu filled with simple and approachable American food, all crafted with locally sourced ingredients. Along with their main menu selections, they offer a variety of "shares" ranging from grilled octopus and caprese mac and cheese to deviled eggs and lobster pierogis– each almost too good share!
Bonus: This stylish farm-to-table restaurant also serves out-of-this-world, delicious cocktails. Their Flora Gimlet is a perfect blend of Japanese gin, lotus flower, lime, and vanilla. Yum!
10. Table 105
Kane
"Farm to Table ~ Table to Soul" is the mantra of Table 105. Their menu features seafood flown in whole and fresh, certified Black Angus steaks from cattle raised on family-owned ranches in Iowa, and locally grown greens – all guaranteeing a fresh, delicious meal with every visit.
Bonus: Along with serving traditional fare, they also feature a few menu items with an international flair and their outdoor patio is open every day the sun shines!
11. Harvest Seasonal Grill & Wine Bar
Harrisburg, Glenn Mills, North Wales, Moosic, Newtown, and Lancaster
Every season of the year is cause for celebration at Harvest Seasonal Grill & Wine Bar where delicious, locally sourced ingredients at the peak of their flavor take center stage. "Know your farmer, know your food" is the mantra behind every dish they create, each one prepared with the freshest and highest quality ingredients. Thus, as the seasons change, so does their farm-to-table menu.
Bonus: Their beverage menu is filled with seasonally inspired cocktails, mocktails, and sangria, also updated throughout the year and joining their extensive list of fine wines and craft beers.
12. Stagioni Ristorante
Pittsburgh
For well over a decade, Stagioni has been bringing the farm-fresh taste of Tuscany to the Pittsburgh area. Their approach to Italian cooking is simple – use the best seasonal, local ingredients available for their menu of classic, quintessentially Italian dishes and desserts. Choose your favorite or opt for one of their family-style entrees designed to satisfy the cravings for Italian fare for four to six of your family or friends.
Bonus: Their wine list features several unique grape varietals, as well as Italian classics that pair perfectly with your meal, and a drink list focused on the flavors of the season.
13. Major Stokes
Greensburg
Major Stokes is fresh, fast, and local! They don't even own a freezer, fryer, or microwave! Along with serving high-quality, locally sourced, and affordable meals Wednesday to Sunday, they are an officially designated Gold Level, Pittsburgh Sustainable Restaurant with a demonstrated commitment to making their community and the world a better place.
Bonus: They also offer a full bar menu featuring wine, local beer, craft spirits, and a profusion of house infusions – the perfect complement to their delectable meals!
14. True Food Kitchen
King of Prussia
Feed your cravings, support your health, and nourish your soul – all in one bite at True Food Kitchen "where real food and serious flavor are served in abundance." This relaxed, eco-chic eatery serves fresh and delicious, health-conscious fare, including vegan options, offering ample proof that feel good and taste good can go hand in hand!
Bonus: Their craft cocktails are concocted with organic ingredients and reflect their passion for ultimate deliciousness!
15. Terrain Garden Café
Devon, Glenn Mills
Hand-selected local produce, meats, and dairy alongside a thoughtfully curated selection of seasonally inspired beverages from near and far are the hallmark of Terrain Garden Café. Their brunch, lunch, and dinner menus change with the season, showcasing each season's freshest and most flavorful ingredients.
Bonus: Their extensive list of both seasonal and specialty beverages includes teas, lattes, coffees, and their "Garden Sips" that feature the flavors of botanical wonders.
16. Harvest at The Hotel Hershey
Hershey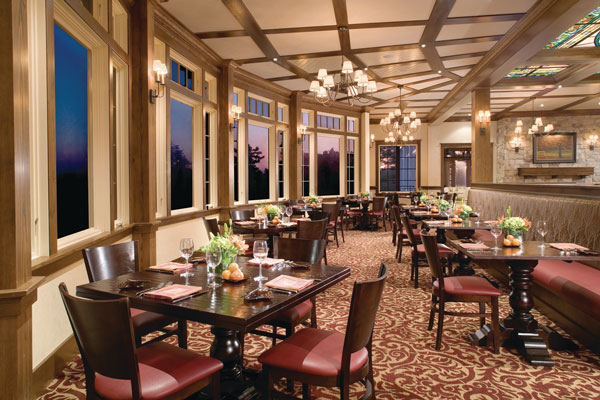 Enjoy a taste of the region with "farm-to-fork" freshness at Harvest at The Hotel Hershey as the Harvest culinary team crafts local ingredients to inspire a menu filled with innovative tastes of traditional American fare. Beautifully marbled and flavorful red Angus beef from Bow Creek Farm, a small farm in the heart of Hershey, is one of the stars of the menu.
Bonus: There is no shortage of chocolate-inspired creations, including Hershey'sⓇ Kisses™ Signature Chocolate Martini!
17. Slow Hand
West Chester
Named after the owner's youthful idol, Conway Twitty and his 1980's rendition of "Slow Hand," the Slow Hand restaurant has an "industrial vintage" vibe and an eclectic, farm-to-table menu. Choose between "large plates," where selections include their signature sliders known as "Belly Bombers," or from their "small plates" menu.
Bonus: An oversize portrait of Conway Twitty overlooks the bar where fun and whimsically named cocktails, such as Heat me Halfway, The Guest Room, and Brewed Awakening, are artfully crafted.
18. Alter House
Clarks Summit
With sustainability at the forefront of their identity and their menu defined by the seasons, Alter House Restaurant & Bar seeks out the finest and freshest ingredients from local farms, farmers' markets, and culinary artisans for their farm-to-table menu. Enjoy a selection of seasonal small plates, such as their charcuterie board and flatbreads, or one of their larger seasonal entrees.
Bonus: Check out their Sunday starters for an amazing breakfast. Bagel and lox anyone?!
19. Bank + Vine
Wilks-Barre
Drawing on his international experiences and as a contestant on Hell's Kitchen, Bank + Vine's Executive Chef Chad Gelso creates unique, flavor-filled dishes from the freshest ingredients sourced from area farms and the restaurant's own produce-filled planters. Visit for weekend brunch, dinner with its small plates and large plate entrées, or for happy hour featuring its own pub menu.
Bonus: Top off your meal with one of their sensational, seasonal cocktails, many named after bank escapades of the past, or pair a glass of wine or beer with your dining selection.
20. Hickory Bridge Farm
Orrtanna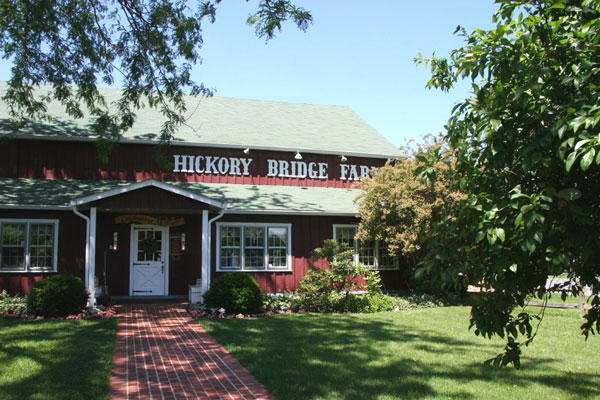 "Farm to Table" is nothing new for Hickory Bridge Farm. They have been serving delicious, farm-fresh meals for four decades in their restored, 160-year-old barn. Nothing fancy here, but if you're in the mood for some great fried chicken, roast pork, brisket, or other home-cooked favorites with many ingredients straight from the farm, their menu is sure to delight.
Bonus: Their delicious corn fritters are included with every meal!
21. Bolete
Bethlehem
With a James Beard semi-finalist at the helm, integrity of ingredients is at the heart of every menu and meal prepared at Bolete. All their stocks, sauces, pasta, and even ramen noodles are crafted at the restaurant, and they even butcher and smoke their own fish and meats. No shortcuts allowed! Located in an old stagecoach inn, this rustic-chic destination serves a seasonal farm-to-table menu of American cuisine with the menu created new each day.
Bonus: Handcrafted cocktails and sips grace their drinks menu, joining their list of carefully chosen wines.
22. Glasbern Inn
Fogelsville
Once a working farm dating back to 1797, the Glasbern Inn returns to its roots with a variety of delectable farm-to-table breakfast and dinner offerings. Served in their exquisite 19th Century barn, their menu is filled with fare crafted with local, farm-fresh ingredients and from trusted, sustainable partners for ingredients not available locally. Sea scallops, shrimp, and sea bass simply do not thrive in PA's inland ponds!
Bonus: Their delicious desserts are all made from scratch in house, including a variety of seasonal ice cream!
23. Broad Table Tavern
Swarthmore
Located within the Inn at Swarthmore, the Broad Table Tavern brings a hearty atmosphere to the space supported by their seasonal menus showcasing locally sourced ingredients and regional artisan products. Partnering with local farms, vineyards, breweries, and their purveyors, Broad Table Tavern brings guests the finest farm-to-table flavors and quality possible.
Bonus: For unique insight into what inspires Broad Table Tavern's executive chef in devising his menu and offerings, reserve your spot to dine with the chef and his special guest – another chef, winemaker, or other food purveyor – at one of the monthly Chef's Table Series.
24. North Country Brewing Company
Slippery Rock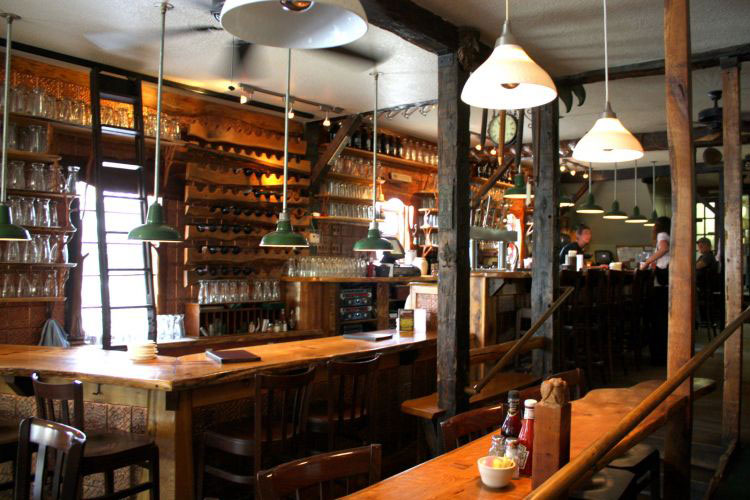 North Country Brewing Company's brewpub serves not only the brewery's latest and freshest craft beers, but sturdy fare straight from local farms and veggies grown in their in-house Growing Together Aquaponics program. You can't get much fresher or tastier than that!
Bonus: Their spent brewers' grain is cycled back to local farms to supplement the pasture grasses of the Scottish Highlands and Angus cattle featured in the brewpub's naturally and friendly raised burgers and steaks – offering the ultimate "farm-to-fork" experience!